$2,495 or Less
California

Texas

Emergency Medical Technician (EMT) Program

Gain the skills you need to save lives in less than 3 months and begin an exciting career as an EMT.
What is an EMT?
EMTs are first responders who critically assess, evaluate, and treat patients. They work on ambulances, in fire departments or hospital emergency departments, and on search and rescue teams.
With over 4,000 jobs in California available, EMTs are always in demand and can be the first step to several specialized career opportunities. California EMTs have an average salary of $45,620.
Emergency Medical Technician Program Locations
More Programs Coming Soon...
Why California Chooses CALRegional
Fastest Certification in California
Beware of phlebotomy training sites promoting fast-paced programs, as that doesn't always mean you'll get certified and licensed quickly. At CALRegional, our students are certified and eligible to apply for licensure in as little as 3 weeks.
Immediate Externship Placement
While most phlebotomy programs can take up to 90 days to place you in an externship, our students are placed immediately. Don't let delays hinder your career progression - CALRegional fast-tracks your transition into the workforce.
91% Certification Passing Rate
Unlike others, CALRegional is transparent about passing rates. Our phlebotomy students not only pass the class but get certified as well. With an impressive 91% passing rate, CALRegional phlebotomy students outperform the industry average.
A Better Approach to EMT Training
Led by professional paramedics and EMTs, our EMT Program is designed to help students master the skills necessary to respond to emergency calls and treat trauma patients. Become certified as an EMT in as little as 11 weeks for $2,495 or less. Easy payment plans are available. No previous medical experience is required.
Show More
The EMT course is a hybrid program consisting of 50% online and instructor-led lectures and 50% labs. Our EMT Program satisfies all training guidelines established by the California Emergency Medical Services Authority and is authorized to run through our adult school and community college partnerships.
Upon graduation, students will be prepared to take and pass the national exam for EMT Certification through the National Registry of Emergency Medical Technicians (NREMT). Students can then apply for state licensure in California. CALRegional students have a 90% national exam passing rate, over 26% more than our competitors.
If you enjoy helping people in dynamic situations and want to use your skills to get patients through difficult situations, the EMT Program may be right for you. This program is also a great choice for students looking to take the first step to many other career paths, such as becoming a paramedic, firefighter, physician's assistant, or ER tech.
Show Less
Our EMT Training Includes:
184 hours of classroom instruction & hands-on training
Guaranteed 24-hour externship
CPR certification
National exam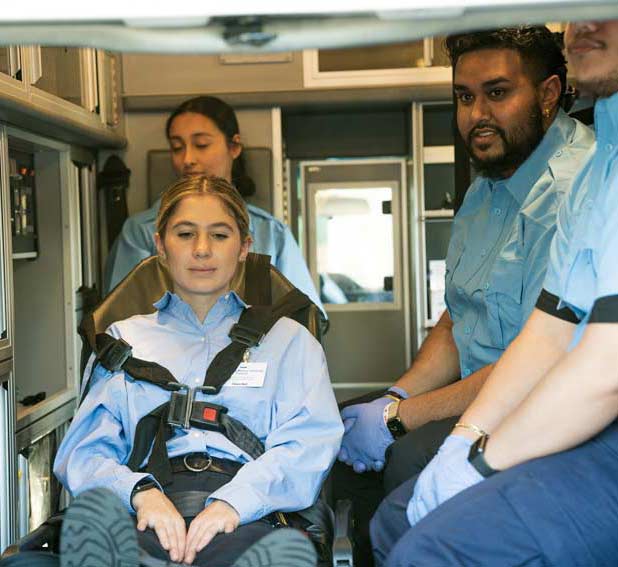 Skills You Will Learn
Lifesaving skills such as how to treat trauma patients, caring for the sick and injured, and handling field equipment.
Real-world experience through clinical, residential, and ambulance simulations.
How to respond to emergency calls and transport patients.
Basic understanding of pharmacology.
EMT Externship & Certification
Externship
The EMT Program includes placement into an externship at the end of the course. A clinical externship is required in California in order to obtain state licensure. The experience helps our students get their foot in the door faster because they are job-ready. Many of our students are recruited during their time in our program, even before they graduate.
Certification
Tuition at CALRegional includes the EMT certification exam through the NREMT. Once students successfully pass the EMT class and externship and receive a certificate of completion, students are ready to take the national certification exam. Students who pass the exam may apply for state licensure through the California Emergency Medical Services Authority.
Upcoming Classes
CALRegional offers day, evening and weekend classes. View full program schedules on the Enroll page.
Speak with an Admissions Specialist
Are you ready to fast-track your career in healthcare? Call our team today for more information on our healthcare training programs or to enroll over the phone.
1 (800) 927-5159