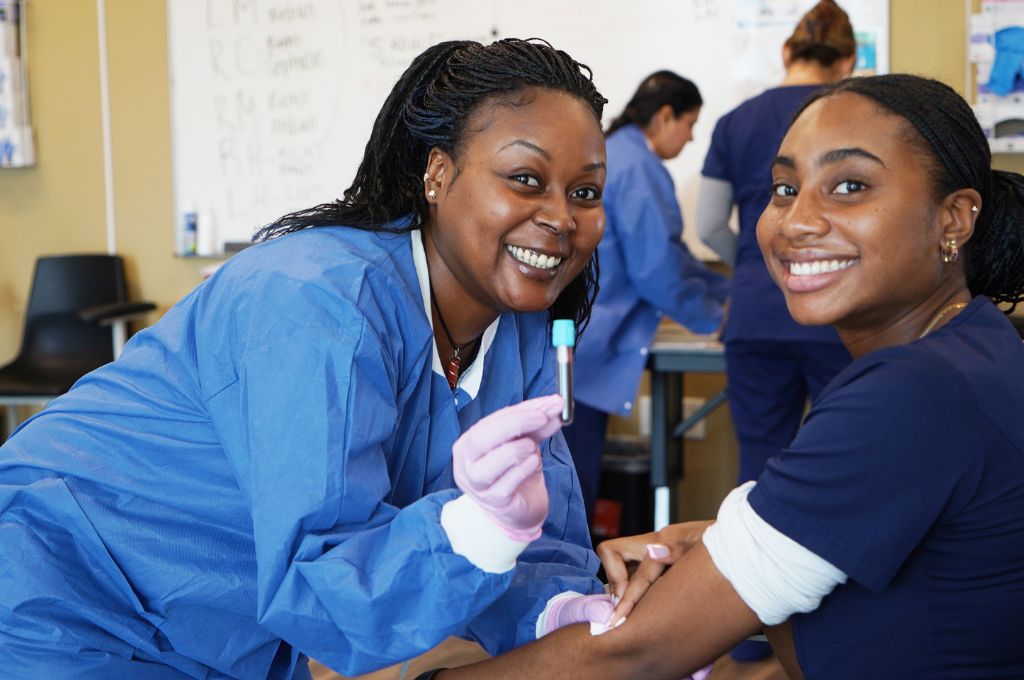 ---
Interested in enrolling in a phlebotomy training program? You may have a general idea of what it entails, but there's more to it than just drawing blood. As a phlebotomist, you'll be using a procedure called venipuncture to collect blood from patients, but that's just the tip of the iceberg. There's so much more to learn!
CALRegional's Phlebotomy Training Program is 3-12 weeks of instruction, including 50% lectures and 50% labs. This means you will alternate days of lectures with days of hands-on training. The classes are 100% in person. Keep reading to discover what our phlebotomy training has in store for you.
Lecture: The Basics of Phlebotomy
During the lecture part of your program, you will learn what it means to be a phlebotomist and what you can expect on a typical day.
Some of the topics included in CALRegional phlebotomy training include:
Human anatomy, physiology, and medical terminology with emphasis on the circulatory system
Proper identification of patient and specimens for accuracy in patient care
Proper selection and preparation of skin puncture site and antiseptic
Blood collection equipment and proper order of draw
Advanced infectious disease control and biohazards
And much more!
Lab: Master the Art of Venipuncture
Now that you understand the process of drawing blood, it's time to put your understanding to work. During the lab portion of the program and under the supervision of your instructor, you will perform the following:
Venipuncture
Butterfly
Evacuated tube systems (ETS)
Syringe methods of draw
Students will practice drawing blood on other students, volunteers, or patients. CALRegional phlebotomy students get 100+ blood draws so that they feel confident in their skills upon exiting the program.
Externship: Get Real World Experience
If you are a Texas student, you can skip this section, as externships are only currently offered through California phlebotomy programs and are not required by the State of Texas.
A clinical externship is required in California in order to obtain state licensure. CALRegional externships are built into the phlebotomy program so that students can get real-world experience fast and conveniently. You can learn the ins and outs of externships in another blog post here.
National Exam: Put Your Skills to the Test
When you graduate from CALRegional, you will be prepared to take the exam for Phlebotomy Technician Certification through the American Medical Certification Association (AMCA).
The national exam is taken on-site on the last day of class from a computer. There are a total of 100 questions on the exam and an allotted time of two hours. Fear not – CALRegional students have a 90% national exam passing rate!
Bonus: Make Friends & Have a Mentor for Life
If you take just one look at CALRegional reviews online, you're bound to see comments from prior students who obtained more than just a certification during their program – they gained memories to last a lifetime. Just check out some of these comments from our graduates:
"I will miss the family I made in my Saturday class." – Naly X.
"Best teacher ever. Will stay in touch after the class." – Olesya R.
"One of the best takeaways is we all became friends outside of class." – Michelle P.
"Today was the final day of this class, and I am not exaggerating when I say that I actually teared up. I didn't want it to end." – Valarie R.
Congratulations: You're a Certified Phlebotomist!
After successfully completing the lectures, labs, and externship (where required) and passing the national exam, you'll be a certified phlebotomist. During your phlebotomy training at CALRegional, you'll learn the ins and outs of working as a phlebotomist and leave the program feeling confident, empowered, and ready to tackle the workforce.
Becoming a certified phlebotomist is an incredible accomplishment, so remember to enjoy the ride! If you're interested in pursuing training in this field, contact us today to schedule a consultation with an admission specialist.